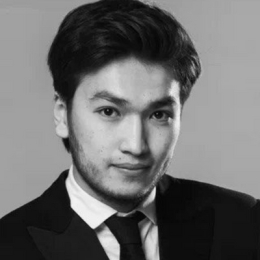 Kazakhstan
08/25/1998
Participation in CMIM - Violin 2023
VIOLIN 2023 
Finalist
CMIM Grants for Unranked Finalists
Citizen of kazakhstan, Ruslan Talas currently studies at the University of Music Lausanne in the class of Janine Jansen. For many years, he also studied with Professor Irina Bochkova and with Vladimir Reider.at the Moscow Conservatory. 
He is the winner of the VIII International Tchaikovsky Youth Competition; the Vietnam International Violin Competition; the first WorldVision Music Contest at the Vienna Konzerthaus; and the Premio Rodolfo Lipizer violin competition in 2022. Ruslan Talas has performed as solist with numerous orchestras and in concert halls in Kazakhstan, Uzbekistan, Mexico, Germany, Austria, Switzerland, France, Italy, Romania, the Czech Republic, Israel, China, Vietnam, and Malaysia. 
Ruslan attended master classes with Ivry Gitlis, Shmuel Ashkenasi, Viktor Tretiakov, Victor Danchenko, Pavel Vernikov, Boris Kuschnir, Kirill Troussov, Chaim Taub, Boris Brovtsyn, Alena Baeva, as well as the State Borodin Quartet, Kopelman Quartet and Quartetto di Cremona, as a member of the Tchaikovsky Youth Quartet. 
Principal teachers
Janine Jansen, 2021 to 2023

 


Graf Mourja, 2020-2022

 

Vladimir Reider, 2017 to 2021

 

Irina Bochkova, 2010 to 2020

 


 
Major Competitions
1st Prize, "WorldVision" Contest Vienna, KonzertHaus, 2022
1st Prize, International Violin Competition "Premio Rodolfo Lipizer", 2022  

Grand-Prix, Vietnam International Violin and Chamber music Competition, 2019

2nd Prize, Laureate, Postaccini International Competition in Fermo, 2018 


Winner, VIII International Tchaikovsky Youth Competition, 2014
ProgramME
FIRST ROUND
JOHANN SEBASTIAN BACH Violin Sonata No. 2 in A minor, BWV 1003
I. Grave 
II. Fugue 
SERGEI PROKOFIEV Five Melodies for Violin and Piano, Op. 35
I. Andante 
II. Lento, ma non troppo 
III. Animato, ma non allegro 
IV. Andantino, un poco scherzando 
V. Andante non troppo 
PABLO DE SARASATE Caprice Basque, Op. 24
SEMIFINAL
JOHANNES BRAHMS Violin Sonata No. 3, Op. 108
I. Allegro 
II. Adagio
III. Un poco presto e con sentimento
IV. Presto agitato 
LUNA PEARL WOOLF L'Inconnu.e bouleversant.e
ERNEST CHAUSSON Poème, Op. 25
JEAN SIBELIUS 6 pieces for Violin and Piano, Op. 79 
I. Souvenir 
MAURICE RAVEL Rhapsody for Violin and Piano, M. 76: Tzigane
FINAL 
NICCOLÒ PAGANINI Violin Concerto No. 1, Op. 6 
I. Allegro maestoso 
II. Adagio espressivo 
III. Rondo. Allegro spiritoso 

Pianist: Jinhee Park
Ruslan Talas is generously sponsored by Nicole Brodeur.
Donate to the CMIM