Volunteer
VOLUNTEERS
The team of volunteers of the Concours musical international de Montréal (CMIM) collaborates closely with the smooth running of the competition. Through their involvement and their various commitments, these men and women contribute to the smooth running of the competition and to the emergence of the new generation of artists.
JOIN OUR VOLUNTEER TEAM!
At the reception, behind the scenes with competitors or jury members, on the road or in the offices, we will work with you to determine which commitment will please you.
The annual editions of the Concours musical international de Montréal take place in the spring, on varying dates, over a period of approximately ten days.
The Concours musical international de Montréal is pleased to have a strong team of volunteers. Are you interested in joining us? We are looking for new candidates to be part of this dynamic team.
Volunteering with the CMIM team means meeting new people, working with the world's artistic elite, contributing to the promotion of classical music and being at the heart of one of the most important annual events in Montreal's musical life.
Information and registration:
Chantal Poulin, executive director of operations
cpoulin@concoursmontreal.ca
514 845-4108, ext. 244
main tasks of CMIM volunteers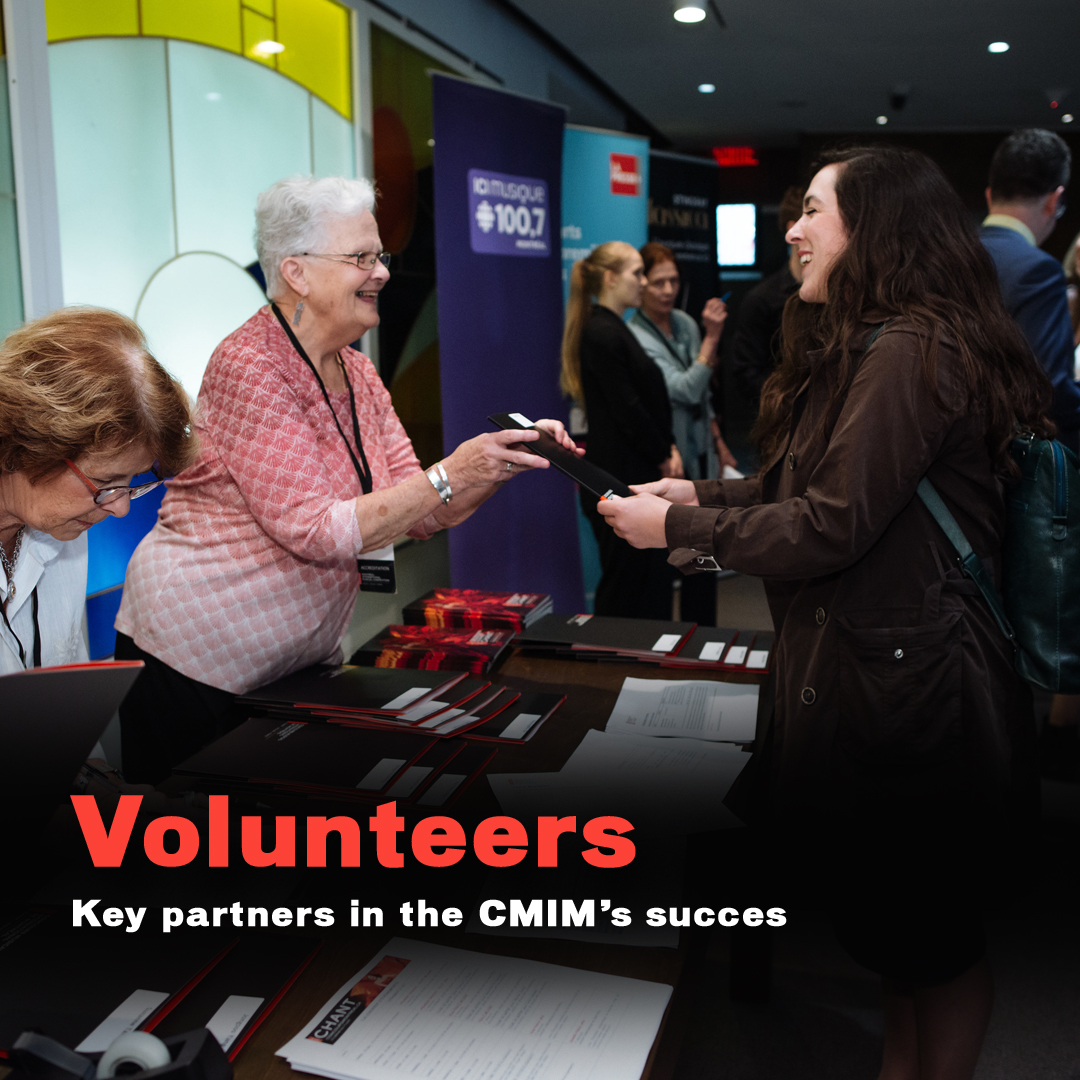 Reception
Greet the public before events, master classes and other special activities.

Guide and answer questions from the public (programming, ticketing, complimentary tickets, etc.).

Oversee the People's Choice Award.
Accompany participants or guests on trips to the competition venues.
Behind the scenes of the competition
Ensure the cleanliness of the premises and the placement of food and beverages in the competitors' lounges and in the areas reserved for jury members.
Accompany competitors on their travels while ensuring that the production schedule is respected.
Remain alert and ready to respond to a variety of possible requests.
Light handling
Assist in the set-up and dismantling of the competition installations.
Move and handle equipment to ensure the proper functioning of the competition.
Perform and update various inventories.
Administrative tasks
Assist in the physical preparation of various files and documents useful for competition activities (writing, postage, folders, complimentary tickets, labeling, name tags, etc.).

Make phone calls to personalize certain invitations.
Update task lists and collaborate on good communications within the volunteer team.
Transport
Driving competitors or jury members before, during and after the competition.
Run simple errands for occasional purchases.
Sales and services
Participate in the sale of various items during the Contest (tickets, promotional items, bar, etc.).