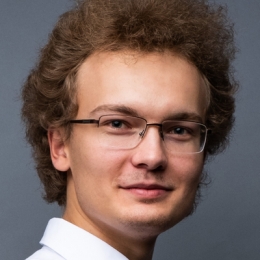 Ukraine
06/01/1999
Participation in CMIM - Violin 2023
VIOLIN 2023 
Laureate – First Prize
Award for the Best performance of a work by J.S. Bach
Born in Kharkiv, Ukraine, Dmytro Udovychenko has been studying music since he was 5 years old and began his studies at the Kharkiv Specialized Musical boarding school at age 6. 
Dmytro is a first prize winner of the International Leopold Auer Competition for Violinists in Saint Petersburg, the International Leonid Kogan Competition for violinists in Dnipropetrovsk, Ukraine, the International Violin Competition Andrea Postacchini in Fermo, Italy, and the International Odessa Violin Competition in 2021.  
Dmytro has performed with the Kharkiv Regional Philharmonic Orchestra, Bergische Symphoniker, Würth Philharmoniker, NDR Radiophilharmonie conducted by Andrew Manze, Lithuanian National Symphony Orchestra, Odessa National Philharmonic Orchestra, and National Philharmonic Orchestra of Ukraine. He has participated in masterclasses with Boris Garlitsky, Natalya Boyarskaya, Olga Parkhomenko, Dmitry Sitkovetsky, Sergey Ostrovsky, Ana Chumachenco, Leonidas Kavakos, and Christian Tetzlaff. 
In 2016, Dmytro began his studies at the Folkwang Universität der Künste in Essen, Germany, in the class of Prof. Boris Garlitsky
Principal teachers
Christian Tetzlaff 2022-present

 


Boris Garlitsky 2013-2022

 

Liudmyla Varenina 2005-2016

 


 
Major Competitions  
3

rd

prize, International Jean Sibelius Violin Competition, 2022

 


1

st

prize, International Odessa Violin Competition, 2021

 

2

nd

prize, Joseph Joachim Violin Competition, 2018

 

1

st

prize, International Violin Competition Andrea Postacchini, 2018

 

2

nd

prize, International Jasha Heifetz Competition for violinists, 2017
Programme
FIRST ROUND
JOHANN SEBASTIAN BACH Violin Sonata No. 1 in G minor, BWV 1001 
I. Adagio 
II. Fugue
ROBERT SCHUMANN Fantasie in C major for Violin and Piano, Op. 131
EUGÈNE YSAŸE Sonata No. 6 in E major, Op. 27
I. Allegro giusto non troppo vivo
SEMIFINAL
BÉLA BARTÓK Sonata for Solo Violin, Sz. 117 
I. Tempo di ciaconna  
II. Fuga. Risoluto, ma non troppo vivo  
III. Melodia. Adagio  
IV. Presto 
MAURICE RAVEL Violin Sonata No. 2 in G major 
I. Allegretto 
II. Blues. Moderato 
III. Perpetuum mobile. Allegro 
LUNA PEARL WOOLF L'Inconnu.e bouleversant.e 
HENRYK WIENIAWSKI Variations on an Original Theme, Op.15 
FINALE
DMITRI SHOSTAKOVICH Violin Concerto No. 1 in A minor, Op. 77
I. Nocturne. Moderato  
II. Scherzo: Allegro  
III. Passacaglia: Andante – Cadenza  
IV. Burlesque: Allegro con brio – Presto 

Pianist: Francis Perron
Dmytro Udovychenko is generously sponsored by Louise Roy.