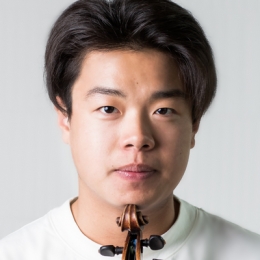 China
07/03/2000
Participation in CMIM - Violin 2023
VIOLIN 2023 
Semifinalist
Zhixin Zhang has played the violin since the age of five. He entered the China Central Conservatory of Music at age 10 and achieved first place in the entrance rankings. He later became concertmaster of the Conservatory orchestra. At 13 years-old, he traveled for the first time to Europe where he studied with many esteemed musicians such as Bartek Niziol, Sebastian Bohren, Qian Zhou, Barbara Doll, and Antje Weithaas. 
Since 2019, Zhixin Zhang has studied with Professor Xiaoming Wang at the Kalaidos Musikhochschule in Zürich and has won prizes in numerous international competitions and festivals. In 2020, he won first prize in the Lunigiana International Music Festival in Italy, and in 2022, he was a semi-finalist at the Wieniawski International Violin Competition in Poland. 
Zhixin Zhang plays a violin made by Jean-Baptiste Vuillaume from the Maggini Foundation. 
Principal teachers
Major Competitions | Concours majeurs  
 

Semi-finalist,

Wieniawski International Violin Competition, 2022 

 
Programme
FIRST ROUND 
JOHANN SEBASTIAN BACH Violin Partita No. 2, BWV 1004
V. Chaconne 
FRITZ KREISLER Tambourin chinois 
HENRYK WIENIAWSKI Variations on an original theme, Op. 15
SEMIFINAL
JOHANNES BRAHMS Scherzo for Violin and Piano in C minor (from the F-A-E Sonata)  
CÉSAR FRANCK Violin Sonata in A Major, FWV 8
I. Allegretto ben moderato 
II. Allegro 
III. Ben moderato: Recitativo-Fantasia 
IV. Allegretto poco mosso 
LUNA PEARL WOOLF L'Inconnu.e bouleversant.e 
EUGÈNE YSAŸE Sonata for solo violin in D minor, 'Ballade', Op. 27, No. 3
I. Lento molto sostenuto 
II. Allegro in tempo giusto e con bravura 
PYOTR ILYICH TCHAIKOVSKY Souvenir d'un lieu cher, Op. 42
III. Mélodie 
MAURICE RAVEL Rhapsody for Violin and Piano, M. 76: Tzigane

Pianist: Carson Becke