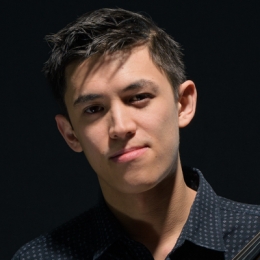 United States
05/14/1996
Participation in CMIM - Violin 2023
VIOLIN 2023 
Violinist David Bernat is currently a C.V. Starr Doctoral Fellow at the Juilliard School and is a graduate of the New England Conservatory.
David has recently performed at Carnegie Hall, the Kennedy Center, and in recitals throughout the United States, Germany, and China. He was recently featured on the BBC Radio 3 program In Tune, and at WQXR's The Greene Space as part of Juilliard's annual ChamberFest. As a soloist, David has performed concertos with the Fort Dodge Symphony and Waterloo-Cedar Falls Symphony and is a 3rd Prize winner of the 2020 World Bach Competition hosted by the Boulder Bach Festival.
David has had frequent opportunities to collaborate closely and to perform music by some of the leading living composers including Thomas Ades, John Adams, John Harbison, Augusta Read Thomas, Fred Lerdahl, and George Walker. David continues to be committed to expanding community access to classical music and has shared his music at retirement communities, shelters, and hospitals throughout the Boston area.
Principal teachers  
Joseph Lin, 2018-present

Laurie Smukler, 2018-2020

 

Soovin Kim, 2015-2018

 

 
ProgramME
FIRST ROUND

JOHANN SEBASTIAN BACH Violin Partita No. 2 in D minor
V. Chaconne

LEOŠ JANÁČEK Violin Sonata
II. Ballada

MAURICE RAVEL Rhapsody for Violin and Piano, M. 76: Tzigane

Pianist: Jiarong Li