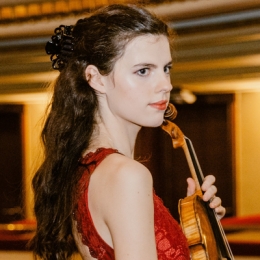 Belgium
08/02/2004
Participation in CMIM - Violin 2023
VIOLIN 2023 
SEMIFINALIST
Pauline van der Rest was born in Brussels in 2004 and began playing violin at the age of 7 with Igor Tkatchouk, first in private, and since 2016 as a Young Talent at the Institut royal supérieur de musique et de pédagogie (IMEP) in Namur. In 2020, she started studying with Boris Garlitsky and joined his baccalaureate class at the Folkwang University of the Arts in 2021. 
Pauline successfully participated in numerous national and international competitions, and she was elected young talent of the year in 2018 by the Province of Namur. 
Pauline has been invited to perform in various countries in Europe and Asia, in prestigious concert halls. She has participated in master classes with Albert Markov, Alexander Vinnitsky, Dora Schwarzberg, and Leonidas Kavakos. 
Finally, she had the privilege of being selected by Leonidas Kavakos to receive a scholarship to take courses with him in 2019 and 2020. 
Principal teachers
Boris Garlitsky, 2020-present

 

Leonidas Kavakos, 2019-2021

 

Igor Tkatchouk, 2011-2019

 
Major Competitions 
1st prize, Honda Competition for Classical Music, Brussels, 2019   
2nd prize

, Spohr Competition for Young Violinists, Weimar, 2019

 

1st prize, Concours Grumiaux, Bruxelles, 2018  
1st prize, Odessa International Violin Competition, Odessa, 2018   
1st prize,  Concorso Postacchini, Italy, 2015  
1st prize, Kocian competition, Czech Republic, 2014
Programme
FIRST ROUND 
JOHANN SEBASTIAN BACH Violin Partita No. 2 in D minor, BWV 1004 
V. Chaconne 
NICCOLÒ PAGANINI Caprice for Solo Violin No. 11 in C major, Op. 1 
MAURICE RAVEL Rhapsody for Violin and Piano, M. 76: Tzigane
SEMIFINAL
LUDWIG VAN BEETHOVEN Violin Sonata No. 3 in E-flat major, Op. 13
I. Allegro con spirito 
II. Adagio con molta espressione 
III. Rondo: Allegro molto 
LUNA PEARL WOOLF L'Inconnu.e bouleversant.e 
SERGEI PROKOFIEV Violin Sonata No. 2 in D major, Op. 94a
I. Moderato 
II. Presto – Poco piu mosso del – Tempo I 
III. Andante 
IV. Allegro con brio – Poco meno mosso – Tempo I – Poco meno mosso – Allegro con brio 
EUGÈNE YSAŸE Violin Sonata No. 5, Op. 27 
I. L'Aurore 
II. Danse rustique 

Pianist: Philip Chiu
Pauline van der Rest is generously sponsored by Abzac Canada Inc.