Voice 2022: UNVEILS FINALISTS OF THE ART DIVISION
Voice 2022: uNVEILS FINALISTS OF THE ART DIVISION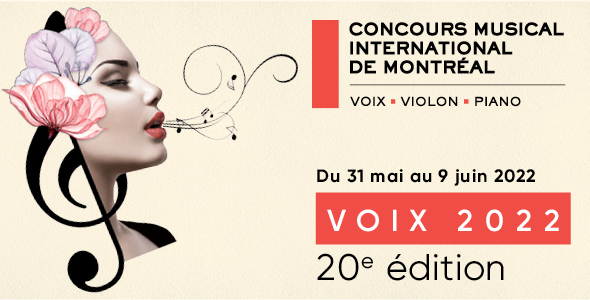 It is under the warm applause of the public at the Bourgie Hall that the Art Song semifinal round ended today.  Accompanied by their pianists, they again demonstrated their undeniable talent.
  
The deliberation of the Voice 2022 jury which took place thereafter concluded with the nomination of three finalists whose interpretations particularly moved the audience.
Finalists – ART SONG
In order of appearance 
On Sunday June 5, 2 p.m. at the Bourgie Hall of the Musée des Beaux-arts de Montréal:
Bryan Murray, baritone (United States)
Harriet Burns, soprano (United Kingdom)
Meredith Wohlgemuth, soprano (United States)
Vote for your favourite competitior
The ICI Musique Audience Award
Be our 8th jury member and vote for your favourite competitors. The ICI Musique Audience Award of $3,000 will be awarded to the competitor in each division – Aria and Art Song – with the highest number of votes from audience members.
* Voting will close 15 minutes after the Aria finale ends.
A speciale prize for collaborative pianists!
Among the prizes offered at VOIX 2022, the CMIM, in partnership with the Lupien Family Foundation, will present the John-Newmark Collaborative Pianist Award (valued at $5,000).
This recognition is added to the impressive list of prizes and awards intended for Voice 2022 competitors. 
Buy your tickets
More news