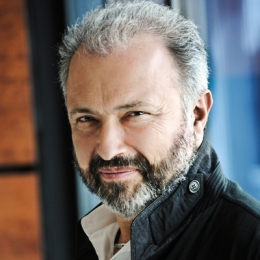 UK/USA
Dmitry Sitkovetsky is recognised for his versatility as a violinist, conductor, creator, recording artist, transcriber, and facilitator. His interests cover every aspect of musical life and he is seen as a renowned educator.
Over the four decades since the launch of his career in Vienna's Musikverein in 1979, Dmitry Sitkovetsky has formed close relationships with many of the world's great conductors and orchestras – Sir Neville Marriner, Mariss Jansons, Sir Colin Davis, Yuri Temirkanov; Berlin Philharmonic Orchestra, Royal Concertgebouw Orchestra, London Symphony, Chicago Symphony, Cleveland Orchestra, New York Philharmonic, LA Philharmonic, Philadelphia Orchestra, Leipzig Gewandhaus, Bayerischer RF, Munich Philharmonic Orchestra and the NHK Symphony. His celebrated career as a violinist is documented in an extensive discography of more than forty recordings, reflecting the impressive breadth of his repertoire from J.S.Bach to Rodion Shchedrin.
Mr. Sitkovetsky has also established a flourishing career as a conductor, and has worked with orchestras such as Academy of St-Martin-In-The-Fields, London Philharmonic, Orchestre de Chambre de Paris, Orchestra della Toscana, San Francisco Symphony, Dallas Symphony, Shanghai Symphony, and Tokyo Metropolitan Orchestra. In 1990, he founded the New European Strings Chamber Orchestra, bringing together the most distinguished string players from the top European ensembles.
Since 2003, Dmitry Sitkovetsky has served as the Music Director of the Greensboro Symphony Orchestra, North Carolina.
He is a close partner and a regular guest at other distinguished festivals: the Verbier, Ljubljana, and the Enescu Music Festivals.
This season, he played the Tchaikovsky Concerto in London, the Brahms Concerto in Japan, the Stravinsky Divertimento in Israel, and the Beethoven Triple Concerto in Dublin. Later, he will perform in Korsholm, Ljubljana, Jerusalem and Enescu festivals, as well as in Baku, Azerbaijan.
Dmitry Sitkovetsky is generously sponsored by Élaine and Réal Raymond.