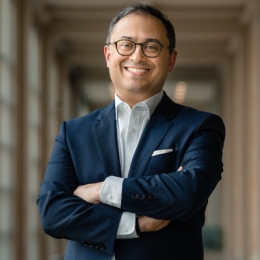 Germany/US
Krishna Thiagarajan joined the Seattle Symphony and Benaroya Hall as President and CEO in September 2018.
His work at the Seattle Symphony has been defined by his commitment to pursuing projects with a meaningful relevance to both the local community and the broader culture. His unique vision for the institution led him to be named one of Seattle Magazine's "Top 25 Most Influential People in Seattle 2020" and Northwest Asian Weekly's "Most Influential People in Seattle 2020."
Prior to joining the Seattle Symphony, Thiagajaran was Chief Executive of the Royal Scottish National Orchestra (RSNO), leading the organization through a period of significant growth while defining their international reputation. Under his leadership, the RSNO became one of the busiest recording ensembles in Europe, producing critically acclaimed releases and accomplishing successful international tours.
Born in Karlsruhe, Germany, he was previously the Executive Director of Orpheus Chamber Orchestra, President of Symphony in C and was the Senior Director of Artistic Operations for the Rochester Philharmonic Orchestra. An accomplished pianist, Thiagarajan received his bachelor's and master's degrees from Indiana University and doctorate from the University of Maryland, College Park. He most recently earned his certificate for Strategic Perspectives in Nonprofit Management from Harvard University.
Thiagarajan currently serves on the National Alliance for Audition Support Advisory Board, a Sphinx Organization-led alliance between the New World Symphony and League of American Orchestras. He has also recently been elected as a Governor to the Board of the Pacific Northwest Chapter of the Recording Academy and appointed to ArtWA's Board of Commissioners by Washington State Governor Jay Inslee.