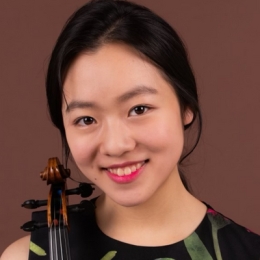 United States
09/25/2003
Participation in CMIM - Violin 2023
VIOLIN 2023 
Best Performance of a Virtuosic Work
Yesong Sophie Lee won First Prize at the 2016 Menuhin International Junior Violin Competition in London at the age of 12.
She has since been the youngest prize winner at the 2022 International Jean Sibelius Competition and received Salon di Virtuosi's Charlotte White Career Grant. Lee has gone on to perform numerous concerts and recitals throughout the US and Europe.
As a soloist, Lee has performed with numerous orchestras, including the Helsinki Philharmonic, Finnish Radio Symphony Orchestra, London Philharmonia, Berlin Konzerthaus Orchestra, Orchestre de la Suisse Romande, Orchestre des Cameristi de la Scala, Seattle Symphony, Detroit Symphony, Calgary Philharmonic, and with the Richmond Symphony for their annual Gala concert, with violinist Joshua Bell.
Yesong is endorsed by Thomastik-Infeld Strings and performs on a Guarneri Del Gesu violin, Cremona c1725 which is on loan from The Ryuji Ueno Foundation and Rare Violins in Consortium, Artists and Benefactors Collaborative.
Principal teachers  
Pamela Frank, 2021-present

 


Shmuel Ashkenasi, 2017-present

 


 

 
Major Competitions  
Finalist, Jean Sibelius Violin Competition, 2022

 
1st prize, Menuhin Junior Competition, 2016
ProgramME
FIRST ROUND
JOHANN SEBASTIAN BACH Violin Sonata No.1 in G minor, BWV 1001
I. Adagio
II. Fugue
NICCOLÓ PAGANINI Caprice for Solo Violin, Op. 1, No. 5
JEAN SIBELIUS 5 Danses champêtres, Op. 106 
I. Largamente assai – vivace 
III. Tempo moderato 
V. Poco moderato – Allegretto  
EUGÈNE YSAŸE Caprice After a Study in Form of a Waltz of Saint-Saëns 
SEMIFINAL
LUDWIG VAN BEETHOVEN Violin Sonata No.7 in C minor, Op. 30 No. 2
I. Allegro con brio 
II. Adagio cantabile
III. Scherzo: Allegro – Trio
IV. Finale: Allegro
LUNA PEARL WOOLF L'Inconnu.e bouleversant.e 
ERWIN SCHULHOFF Violin Sonata No. 2, WV 91
I. Allegro impetuoso 
II. Andante 
III. Burlesca : Allegretto 
IV. Allegro risoluto  
FRANZ WAXMAN Carmen Fantasie 

Pianist: Francis Perron
Yesong Sophie Lee is generously sponsored by the Jean C. Monty Family.