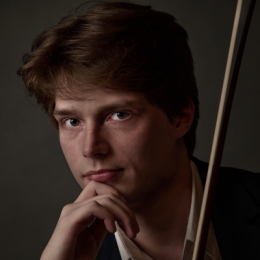 Ukraine
04/07/2001
Participation in CMIM - Violin 2023
VIOLIN 2023 
Born in Kyiv, Ukraine in a family of musicians, Georgii Moroz began to play the violin at the age of five. From 2012 to 2018, he studied at the Kyiv Special Music School, and successfully graduated with numerous honors.
Georgii Moroz is a laureate of many Ukrainian and international competitions, and he was one of six finalists at the 2022 Jean Sibelius Competition in Helsinki.
He has performed two recitals with the Bucharest Philharmonic and has taken part in many masterclasses with artists such as Shlomo Mintz, Midori Goto, Chaim Taub, Vilmos Szabadi, Ilya Kaler, Shmuel Ashkenasi, and Vadim Gluzman, among others.  Since 2019, Georgii Moroz has been studying at Yong Siew Toh Conservatory of Music in Singapore, in the class of Professor Qian Zhou.
Georgii Moroz plays a 1729 Montagnana violin owned by the Rin collection.
Principal teachers
Qian Zou, 2019

Olha Korinets, 2012-2018

 
Major Competitions
Finalist, International Jean Sibelius Competition, 2022

 


Finalist, International violin competition "Grumiaux", 2017

 

First Prize winner, Best performance of Ysaye, "Eugen Coca" International Competition for Young Performers, Moldova

 
Programme
FIRST ROUND

JOHANN SEBASTIAN BACH Violin Sonata No. 3, BWV 1005
II. Fugue 
EUGÈNE YSAŸE Violin Sonata No. 6 in E major, Op. 27
I. Allegro giusto non troppo vivo 
BÉLA BARTÓK Violin Rhapsody No. 1, Sz. 87
I. Lassú. Moderato 
II. Friss. Allegretto moderato 

Pianist: Philip Chiu
Georgii Moroz is generously sponsored by Ann Birks.