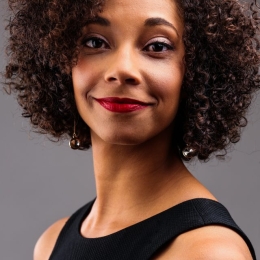 Photo : Annie Ethier
Canada
1990-11-05
VOICE 2018 Edition – ARIA DIVISION
soprano
Biography 2018: Montreal soprano Cécile Muhire completed her studies at the Conservatoire de musique de Montréal and is currently working with soprano Lyne Fortin and pianist Esther Gonthier. She has twice received a grant from the Jacqueline Desmarais Foundation, and is a Second prize winner of the Ottawa Choral Society's New Discoveries auditions. In January 2014, Cécile made her debut with the Opéra de Montréal as The Strawberry Woman (Porgy and Bess), and has been an Atelier lyrique member from 2014 to 2016.
Among other things, she has performed melodies of Satie and Poulenc with Julien Proulx and Drummondville' symphonic orchestra, as well as sang the role of Lisbé (Zémire et Azor) with Les Violons du Roy ensemble and its associate conductor Mathieu Lussier, staged by the famous Denys Arcand.
Recently, she was singing the role of Zerlina (Don Giovanni), a coproduction of Jeunesses musicales Canada and the Opéra de Québec. This summer, she will perform the role of Gretel (Opera Candy: the gourmet adventure of Hansel and Gretel), that will be presented at the Festival d'Opéra de Québec.
Cécile Muhire is generously sponsored by Claire & Laurent Beaudoin. 
ARIA
FIRST ROUND
Wolfgang Amadeus Mozart
Solitudini amiche… Zeffiretti lusinghier (Idomeneo)
Alban Berg
Sieben frühe Lieder
     Die Nachtigall
     Im Zimmer
Gioachino Rossini
En proie à la tristesse (Le comte Ory)
Official pianist: Esther Gonthier

SEMIFINAL
Wolfgang Amadeus Mozart
Ma se colpa… Batti, batti, o bel Masetto (Don Giovanni)
George Frideric Handel
Rejoice Greatly, O Daughter Of Zion (Messiah)
Maurice Ravel
Cinq Mélodies populaires grecques      
     Chanson de la mariée 
     Là-bas, vers l'église
     Quel galant m'est comparable
     Chanson des cueilleuses de lentisques
     Tout gai

FINAL
Gioachino Rossini
Prendi, per me sei libero (L'elisir d'amore)
Gustav Mahler
Symphonie no. 4                                                                                                                                                                                                                                                                     
      Sehr behaglich: "Wir genießen die himmlischen Freuden"
Wolfgang Amadeus Mozart      
Alleluja (Exsultate Jubilate K. 165)