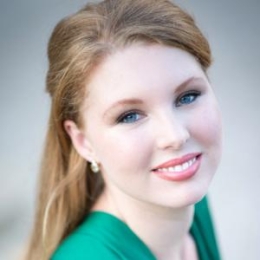 Photo : Simon Pauly
Canada
1988-07-09
Voice 2018   •  All our competitors 
VOICE 2018 Edition
* * *
Mezzo-soprano
Ms. Sproule is a native of Montréal and is a graduate of the Juilliard School (B.Mus. 2010), and Rice University (M.Mus. 2012). She also participated in residencies at the Banff Centre, Aspen Opera Theatre, Merola Opera Program, Wolf Trap Opera and the Houston Grand Opera Studio.  
Highlights of past seasons include the role of Inez in Il Trovatore and the Sandman in Hänsel and Gretel at the Metropolitan Opera. Ms. Sproule also debuted in her native Canada with the Vancouver Opera as Maddalena in Rigoletto and with Opéra de Montréal as the Third Maid in Elektra. Ms. Sproule made her European debut singing Erika in Samuel Barber's Vanessa at the Wexford Festival, and subsequently her Italian debut at Teatro Lirico di Cagliari as Ulrica in Un Ballo in Maschera. In concert, she was the alto soloist in Handel's Messiah with the Minnesota Orchestra as well as the alto soloist in Beethoven's 9th Symphony at the Aspen Music Festival.
Carolyn Sproule is generously sponsored by Nancy Rowat & Ernest McNee.
---
ARIA
FIRST ROUND
Richard Strauss
Wie du warst! (Der Rosenkavalier)
Camille Saint-Saëns
Printemps qui commence (Samson et Dalila)
Gaetano Donizetti
Ah quando all' ara scorgemi (Maria Struda)
Official pianist: Martin Dubé
SEMIFINAL
Camille Saint-Saëns
Mon coeur s'ouvre a ta voix (Samson et Dalila)
Gioachino Rossini
Fac ut portem Christi mortem (Stabat Mater)
Piotr Ilitch Tchaïkovski
Da, tchas nastal (Orleanskaïa dieva)
FINAL
Georges Bizet
Près des remparts de Séville (Carmen)
Hector Berlioz
Adieu, fière cité (Les Troyens)
Gaetano Donizetti
Ah! quando all' ara scorgemi (Maria Struda)