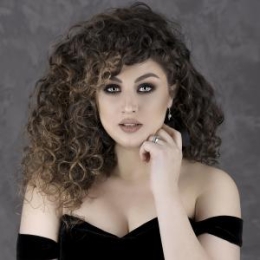 Photo : Robert Koloyan
Armenia
1986-11-08
VOICE 2018 Edition – ARIA DIVISION
Soprano
Biography 2018: Anush Hovhannisyan won the First Prize, Audience Prize, Deutsche Grammophon and Royal Danish Opera special prizes at the Stella Maris International Vocal Competition in 2016 and the First Prize at the Concours Suisse Ernst Haefliger in 2014 and was a finalist at the BBC Cardiff Singer of the World in 2017. As a Jette Parker Young Artist, she performed at the Royal Opera House Covent Garden between 2013 and 2015.
In addition to the variety of roles she sang at the ROH, she has also performed Lucilla (La Scala di seta) and Princess (El Gato con Botas) at the Linbury Studio Theatre, Sitâ (Le Roi de Lahore) with the Chelsea Opera Group, and Donna Elvira (Don Giovanni) for Teatro Lirico Verdi in Trieste, Italy.
Current and recent engagements include the title role in Maria Stuarda at the Stadttheater Klagenfurt, Mirrah in Liszt's Sardanapolo at the Suoni dal Golfo, Lerici, Emma Khovanschina with the BBC Symphony Orchestra at the 2017 BBC Proms, Donna Anna Don Giovanni at the 2018 New Generation Festival, Florence, Amaltea Mosè in Egitto for Chelsea Opera Group, her debuts with Scottish Opera and Welsh National Opera as Violetta La traviata, Berg Seven Early Songs and Beethoven Symphony No.9 with the Southbank Sinfonia, Strauss Four Last Songs with the Amicus Orchestra and series of recitals for BBC Radio 3's Big Chamber Day. 
Anush Hovhannisyan is generously sponsored by Denyse Chicoyne & Serge Gouin.
---
ARIA
FIRST ROUND
Gioachino Rossini
Bel raggio lusinghier (Semiramide)
Richard Strauss
Frühling (Vier letzte Lieder)
Wolfgang Amadeus Mozart
Al destin, che la minaccia (Mitridate, Re di Ponto)
Official pianist: Martin Dubé
SEMIFINAL
Piotr Ilitch Tchaïkovski
Gde zhe ty, moy zhelanny? (Charodeika)
Alban Berg
Sieben frühe Lieder
    Nacht
    Die Nachtigall
    Traumgekrönt
Wolfgang Amadeus Mozart
Oh smania! oh furie! … D'Oreste, d'Aiace (Idomeneo)
FINAL
Giacomo Meyerbeer
Robert, toi que j'aime (Robert le diable)
Gioachino Rossini
Bel raggio lusinghier (Semiramide)
Richard Strauss
Beim Schlafengehen (Vier letzte Lieder)