Photo : Andréanne Gauthier
Canada-Germany
1990-06-27
VOICE 2018 Edition – Art song DIVISION
Soprano
Biography 2018: German-Canadian soprano Anna-Sophie Neher, a recent first prize winner in the OSM Manulife Competition, discovered her passion for music at a very young age. After 12 years studying piano, she discovered the world of classical singing at the age of 19. Anna-Sophie obtained her Bachelor's degree from the Conservatoire de musique de Montréal, then spent one year in New York at Bard College under Sanford Sylvan and Dawn Upshaw. Back in Montreal to complete her Master's degree, she is currently working with Dominique Labelle at McGill University. Anna-Sophie has distinguished herself in several competitions and received numerous awards, including the Wirth Vocal Prize (2017).
Her operatic credits include the lead role of Adele in Die Fledermaus with Opera McGill (2017), Pamina in Die Zauberflöte staged by Bard College (2016) and Barbarina in Le nozze di Figaro with the Orford Music Festival (2012).
In concert, she has sung in Handel's Messiah, Carmina Burana, Mozart's Great Mass in C minor and Requiem, Der Rose Pilgerfahrt, Gloria and the Magnificat.
Anna-Sophie Neher is generously sponsored by Élaine & Réal Raymond.
---
ART SONG
FIRST ROUND
Franz Schubert
Auf dem Wasser zu singen D. 774
Nacht und Träume D. 827
Samuel Barber          
St. Ita's Vision (Hermit Songs op. 29)
Gabriel Fauré
Les Roses d'Ispahan op. 39 n° 4
Fleur jetée op. 39 n° 2
SEMIFINAL
Wolfgang Amadeus Mozart
Als Luise die Briefe K. 520
Abendempfindung K. 523     
Sergueï Rachmaninov
Dvenadtsat Romansov op. 21           
     Siren'
     Zdes khorocho
Claude Debussy
Pantomime L. 31
Clair de lune L. 32
Pierrot L. 15
Appartition L. 53
FINAL
Jake Heggie
Rise and Fall
      Water Stone (Noguchi)
      Incantation Bowl
      Angel's Wings
      The Shaman
Hugo Wolf
Mörike-Lieder
      Er ist's !
      An eine Äolsharfe
Francis Poulenc
Métamorphoses FP 121
      Reine des mouettes
      C'est ainsi que tu es
      Paganini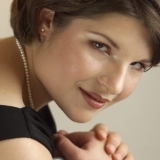 Canada
1984-06-07
Magdalena von Eccher
Canadian pianist Magdalena von Eccher studied at the University of Lethbridge with Glen Montgomery and the University of British Columbia with Jane Coop, and is currently pursuing a Doctor of Music degree at McGill University's Schulich School of Music under Stéphane Lemelin. A highly-praised soloist, recitalist and chamber musician, von Eccher has nurtured her affinity for vocal repertoire under the guidance of collaborative pianists Michael McMahon (McGill) and Rena Sharon (UBC). Von Eccher is a recipient of the Joseph-Armand Bombardier Graduate Scholarship from the Social Sciences and Humanities Research Council of Canada.
Magdalena Von Eccher is generously sponsored by Janine Boivin & Claude Gagliardi.