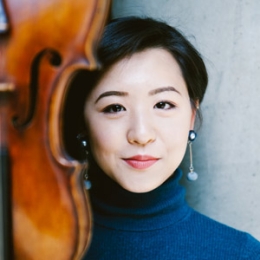 Photo : Katie Borrazzo
United States/South Korea
1995-07-11
VIOLIN 2019 EDITION
Biography 2019: Only a year and a half after her first violin class, at the age of 4, Anna Lee played Paganini's Concerto No. 1 with the Singapore Symphony Orchestra, under Lan Shui. She has set herself apart at many competitions and performed for the first time with the New York Philharmonic in 2011, and, in Germany, with the Frankfurt Radio Orchestra with Christoph Eschenbach in 2016. Passionate about music and the arts, this exceptionally gifted performer is currently finishing her Bachelor of Arts in Comparative Literature at Harvard College, while studying privately with Miriam Fried and Don Weilerstein. Her favourite book is The Idiot by Dostoyevsky. "It struggles with so many questions of human existence and what it means to be 'good' or 'bad'. It invites the reader to participate in mulling over these existential and ethical questions." Anna plays on a Giovanni Tononi violin made around 1690. 
Anna Lee is generously sponsored by Nicole Poliquin.
* * *
Violin 2019 Program 
First Round
J.S. Bach | Partita No. 2 in D minor, BWV 1004
Mozart | Sonata  No. 21 in E minor, K. 304 
Tchaïkovski | Valse-Scherzo in C major, Op. 34  
Semi-final 
Beethoven | Sonata  No. 7 in C minor, Op. 30 No. 2  
Oesterle | stand alone 
Ravel | Sonata  No. 1 in  A minor, Op. posth. 
Szymanowski | Nocturne et tarentelle, Op. 28 
Final  
Prokofiev | Concerto No. 2 in G minor, Op. 63