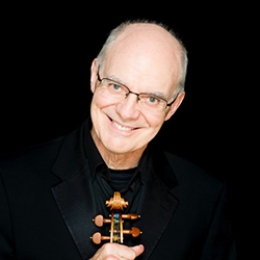 Canada
Malcolm Lowe led the Boston Symphony Orchestra as concertmaster for 35 years with three iconic music directors, Seiji Ozawa, James Levine, and Andris Nelsons. The innumerable concerts, worldwide tours and recordings with the Boston Symphony and Boston Symphony Chamber Players, concertos, chamber music, recitals, and teaching are all parts of this diverse career that continue to be an inspiration to him and others. Malcolm's love and passion for music permeates all of his continued musical activities, recitals, chamber music, and teaching younger generations of musicians. Malcolm has also found his participation in summer festivals and on the juries of the International Violin Competition of Indianapolis and the Montreal Violin Competition to be very inspiring and a connection to the remarkable young violinists who are moving the art of violin playing forward.
Malcolm was born in Hamiota, Manitoba, where he lived and worked on a grain farm alongside his parents, both also musicians. The family moved to Regina where Malcom began violin studies with Dr. Leyton-Brown at the Conservatory at age 9. He subsequently attended the Meadowmount School of Music and the Curtis Institute of Music to study with Ivan Galamian and Jaime Laredo.
Malcolm is currently on faculty at the Cleveland Institute of Music and continues his concertmaster coaching and classes which are an extension of his distinguished career and singular perspective.