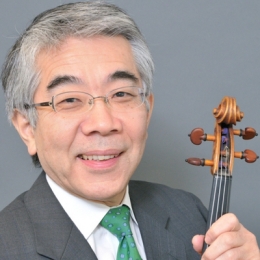 Japan
Koichiro Harada studied violin, chamber music and conducting at the Toho Gakuen School of Music and the Juilliard School of Music under Hideo Saito, Kazuyoshi Akiyama, Dorothy Delay, and Ivan Galamian.
In 1969, Mr. Harada founded the renowned Tokyo String Quartet in which he played first violin for 12 years. His chamber music engagements led him to prestigious venues such as Lincoln Center and John F. Kennedy Center for the Performing Arts. He later began teaching overseas at major music learning centres including the Cleveland Conservatory and Aspen Music Festival.
Mr. Harada returned to Tokyo in 1983 and has since formed several other notable chamber music ensembles, among them NADA and Mito Quartet. He has performed at numerous music festivals, among them the Aspen Music Festival, the Ishikawa Music Academy, and Kurashiki Music Festival.
Also an acclaimed conductor, Koichiro Harada often appears with the New Japan Philharmonic, Osaka Philharmonic Orchestra, Hiroshima Symphony Orchestra, Sapporo Symphony Orchestra, Kyoto Symphony Orchestra, Tokyo Philharmonic Orchestra, Orchestra Ensemble Kanazawa, Kyushu Symphony Orchestra, Kioi Sinfonietta Tokyo, and many more.
In addition to his concert activities, Mr. Harada is a Professor at the Toho Gakuen School of Music and has been invited as a jury member to many international competitions: Concours musical international Reine Elisabeth de Belgique, International Violin Competition of Indianapolis, Concorso Internazionale Di Violino Premio N. Paganini, and The Henryk Wieniawski International Violin Competition.
In addition to serving as a professor at Indiana University and the Ecole Normale Conservatoire in Paris, he holds violin master classes at the Vienna State University of Music, the Hanover National University of Music, the London Royal Academy, the Korean National University of Arts, and others.
He is currently specially appointed professor at Toho Gakuen University, Tokyo College of Music, and music director of Ishikawa Music Academy. He also is a member of the faculty at the Manhattan School of Music.
Koichiro Harada is generously sponsored by Groupe Colabor.