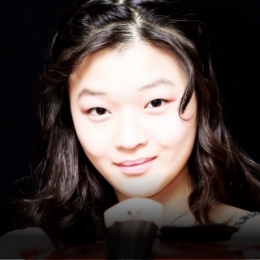 South Korea
06/03/2003
Participation in CMIM - Violin 2023
VIOLIN 2023 
SEMIFINALIST
Born in South Korea, Yeyeong Jenny Jin began her studies at age 2. At the age of 8, she won the Kumho-Asiana Cultural Foundation Award, resulting in the loan of a fine half-size violin made in 1700, the Carlo Giuseppe Testore, and a solo recital. At age 9, she was admitted to The Curtis Institute of Music in Philadelphia and studied with renowned pedagogue Ida Kavafian.
In 2016, Yeyeong became a student of The Perlman Music Program and won top prizes at the 2020 Stulberg International String Competition and the 2022 Zhuhai International Violin Competition. She is currently at The Juilliard School as a proud recipient of the Kovner Fellowship, studying with Itzhak Perlman and Li Lin.
Principal teachers
Li Lin – current 

 

Itzhak Perlman – current

 


Ida Kavafian – 2013-2021

 


 
Major Competitions
Zhuhai International violin competition 2022, 2nd prize 

 


Stulberg International String competition 2020, Silver medal
ProgramME
FIRST ROUND
JOHANN SEBASTIAN BACH Violin Sonata No. 2 in A minor, BWV 1003
II. Fugue  
EUGÈNE YSAŸE Violin Sonata No. 5, Op. 27
I. L'aurore 
II. Danse rustique 
CAMILLE SAINT-SAËNS Introduction and Rondo Capriccioso, Op. 28
I. Allegro malincolico
II. Allegro ma non troppo

SEMIFINAL
LUDWIG VAN BEETHOVEN Violin Sonata No. 7 in C minor, Op. 30 No. 2 
I. Allegro con brio
II. Adagio cantabile
III. Scherzo: Allegro – Trio
IV. Finale. Allegro 
LUNA PEARL WOOLF L'Inconnu.e bouleversant.e
LEO JANÁCEK Violin Sonata
I. Con moto 
II. Ballada 
III. Allegretto 
IV. Adagio 
HEINRICH WILHELM ERNST Last Rose of Summer

Pianist: Philip Chiu
Yeyeong Jenny Jin is generously sponsored by the Fondation Ronald Denis M.D.