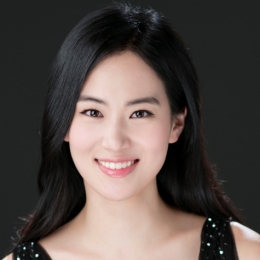 South Korea
1986-12-23
Piano 2017 Edition
* * *
PLACE OF BIRTH
Seoul, South Korea
TRAINING
2014-2016: Seoul National University, College of Music, Doctorate
2012-2013: Indiana University Bloomington, Artist Diploma
2010-2012: Indiana University Bloomington, M. Mus.
2005-2009: Seoul National University, College of Music, B. Mus.
TEACHERS
Hee Sung Joo, Menahem Pressler, Arnaldo Cohen
AWARDS
2016: 2nd Prize, FVG International Piano Competition (Venice)
2014: 3nd Prize, Takamatsu International Piano Competition
2012: 3nd Prize, San Antonio International Piano Competition
2011: 2nd Prize, Washington International Competition for Piano
---
ROUND ONE: RECITAL
Joseph Haydn: Sonata en do majeur, Hob. XVI:48
Unsuk Chin: 'Scalen' (Piano Etudes: no. 4)
Maurice Ravel: 'Scarbo' (Gaspard de la nuit: no. 3)
Frédéric Chopin: Nocturne in C minor, op. 48 no. 1
Franz Liszt: Réminiscences de Norma
SEMIFINAL: RECITAL
Johann Sebastian Bach: Prelude and Fugue in D major, BWV 874
André Mathieu: Laurentienne no. 2 in C-sharp minor
Robert Schumann: Sonata no. 1 in F-sharp minor, op. 11
Igor Stravinsky: Trois mouvements de Petrouchka
FINAL: CONCERTO
Peter Ilyich Tchaikovsky: Concerto no. 1 in B-flat minor, op. 23
---
THANK YOU!
Yejin Noh is generously sponsored by Mimi Lépine & André Dubois.