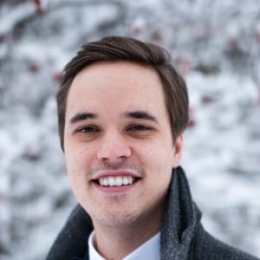 Photo : Miia Sinikumpu
Finland
1991-02-16
VOICE 2018 Edition – ART SONG DIVISION
Baritone
Biography 2018: Finnish baritone Tomi Punkeri is currently studying singing at Oulu University of Applied Sciences under the guidance of his teacher Markku Liukkonen. He was awarded a special prize at the Lappeenranta National Singing Competition in 2016. In 2015, he won Second Prize in the Helsinki Lied Competition and reached the finals of the Timo Mustakallio Singing Competition of the Savonlinna Opera Festival.
Tomi made his opera debut at the Oulu City Theatre in the role of Vanhala in Tauno Pylkkänen's Unknown Soldier in 2014. His first main role was in Jukka Linkola's Abraham's Feast opera in Oulu in 2017. In addition to opera, he has performed as a soloist in several oratorios and passions and also in lied recitals across Finland. In the summer of 2017, he performed Franz Schubert's Die Schöne Müllerin with great success in collaboration with baritone Jorma Hynninen, emeritus professor of the Sibelius Academy. In addition to his singing career, Tomi holds a Bachelor of Church Music and a Licentiate of Medicine, both from University of Oulu.
Tomi Punkeri is generously sponsored by Fondation Libermont.
---
ART SONG
FIRST ROUND
Hugo Wolf
Der Tambour (Mörike-Lieder)
Ralph Vaughan Williams
Youth and Love (Songs of Travel)
Franz Schubert
Normans Gesang D. 846
Gabriel Fauré
Les Berceaux op. 23 n° 1
Richard Strauss
Nichts (Acht Gedichte aus Letzte Blätter op. 10)     
SEMIFINAL
Maurice Ravel
Don Quichotte à Dulcinée    
Chanson romanesque
Chanson épique
Chanson à boire
Einojuhani Rautavaara
Sydämeni laulu
Johannes Brahms
Wie bist du, meine Königin op. 32 n° 9
Jean Sibelius
Jägargossen op. 13 n° 7
Den första kyssen op. 37 n° 1
Im Feld ein Mädchen singt op. 50 n° 3
Vilse op. 17 n° 4
FINAL
Oskar Merikanto
Nuoruuden ylistys op. 69 n° 3
Roger Quilter
To Julia op. 8 
The Night Piece
Julia's Hair
Sergueï Rachmaninov
Nié poï, krasavitsa, pri mnié op. 4 n° 4
Franz Schubert
Schwanengesang D.957
Der Atlas
Ihr Bild
Das Fischermädchen
Die Stadt
Am Meer
Erik Bergman
Jäntblig op. 21 n° 2
Ture Rangstöm
Kung Eriks visor         
En visa om när jag var lustig med Welam Welamsson
En visa till Karin när hon hade dansat
Kung Eriks sista visa
Pianist: Olivier Godin