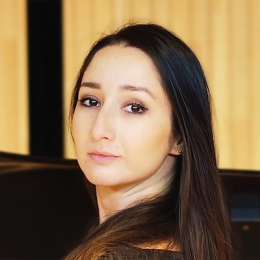 Uzbekistan
1991
Piano 2021 Edition
About
Biography
Tamila was born in Tashkent and began her piano studies at the Uspensky Music School with Tamara Popovich at the age of 7. She made her concerto debut at the age of 9 performing Mozart's Piano Concerto KV 450. She has performed with the Orquestra Experimental de Repertório, the Brazilian Symphony Orchestra, the Orquestra Sinfonica da Bahia, and the Philarmonic Orchestra of Morocco.
Биография
Уроженка Ташкента, Тамила Салимджанова, в возрасте семи лет, начала учиться игре на фортепиано в Успенской музыкальной школе у Тамары Попович. Два года спустя она дебютировала на сцене, исполнив Концерт для фортепиано вместе с оркестром KV 450 Моцарта. С тех пор она выступала с Экспериментальным репертуарным оркестром в Сан-Паулу, Бразильским симфоническим оркестром и оркестром Баия, а также с Марокканским филармоническим оркестром.
Training
2019–: Hochschüle der Künste Bern, Master in Performance, Tomasz Herbut
2014-2019: MMus, BMus, Vanessa Latarche
2010-2017: Moscow State Tchaikovsky Conservatory, MMus, BMus, Irina Plotnikova
Prizes and Awards
2019: Concours international de piano Lagny-sur-Marne– 2nd Prize
2018: Campillos International Piano Competition – 3rd Prize
2012: BNDES International Piano Competition – 1st Prize
Semi-final
BACH: Prelude and Fugue in C-sharp major, BWV 848
HAYDN: Sonata in C minor, Hob. XVI:20
Moderato • Andante con moto • Finale (Allegro)
SCHUMANN: Fantasie, Op. 17
Durchaus phantastisch und leidenschaftlich vorzutragen • Mässig. Durchaus energisch • Langsam getragen. Durchaus leise zu halten
Tamila Salimdjanova is generously sponsored by Denyse Chicoyne and Serge Gouin.