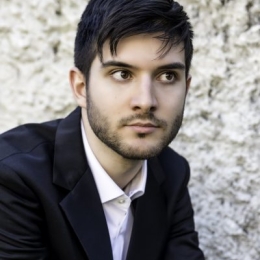 Italy
1991-07-25
AGE
25 years old
BIRTHPLACE
Castelfranco Veneto, Italy
TRAINING
2016-: The Royal Danish Academy of Music, postgraduate program
2004-2014 : Conservatorio Statale di Musica "Agostino Steffani", B. Mus. M. Mus.
TEACHERS
Massimiliano Ferrati, Niklas Sivelov
AWARDS
2016: 1st Prize, FVG International Piano Competition (Venice)
2012: 3rd Prize, Fano International Piano Competition (Padua)
2011: 3rd Prize, Chopin International Piano Competition (Rome)
---
ROUND ONE: RECITAL
Domenico Scarlatti: Sonata in D minor, K. 213
Ludwig van Beethoven: Sonata quasi una fantasia in E-flat major, op. 27 no. 1
Sergei Rachmaninov: Sonata no. 2 in B-flat minor, op. 36
SEMIFINAL: RECITAL
Robert Schumann: Drei Romanzen, op. 28
Muzio Clementi: Sonata in F-sharp minor, op. 25 no. 5
André Mathieu: Laurentienne no. 2 in C-sharp minor
Frédéric Chopin: Sonata no. 2 in B-flat minor, op. 35
FINAL: CONCERTO
Franz Liszt: Concerto no. 2 in A major
---
THANK YOU!
Stefano Andreatta is generously sponsored by Jean-Jacques Laurans.