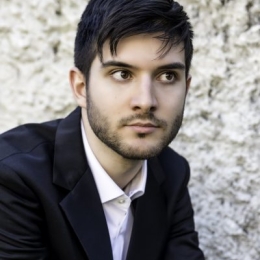 Italy
1991-07-25
Piano 2017 Edition
Third Prize
Biography 2017: Stefano Andreatta began to study music and piano at the age of seven with his father. He made his debut with orchestra at fifteen performing Beethoven First Piano Concerto. In 2011, he graduated with highest honors under the guidance of Francesco Bencivenga at the "Agostino Steffani" Conservatory in Castelfranco Veneto. In 2012 he was selected to take part in the Music Academy of the West in Santa Barbara, where he worked with Jerome Lowenthal, from Julliard School in New York. After which, he studied also with Riccardo Risaliti and Anna Kravchenko. In 2014 he completed with highest honors a Master in Piano Didactics, submitting a thesis on Russian composers of the Soviet Union.
He won prizes in national and international competitions, including First prize at "Premio Brunelli" in Vicenza, reserved to the best Italian graduates; Third prize at Chopin International Piano Competition in Rome; and Third prize and special prize at Guido Alberto Fano International Piano Competition in Padua. In 2016, he won First prize at the FVG International Piano Competition in Sacile, as well as special awards for best Beethoven sonata and best 20th-century piece. In 2017, he won Third prize at the Concours musical international de Montréal.
Mr. Andreatta gives concerts regularly in Italy and abroad. As a soloist, he performed with Orchestra di Padova e del Veneto, Orchestra Filarmonia Veneta "G. F. Malipiero", Nova Amadeus Chamber Orchestra, "Mihail Jora" Philarmonic Orchestra of Bacau, Orchestre Symphonique de Montréal, and Astana Symphony Orchestra. He has recently recorded a CD at Fazioli Concert Hall for KNS Classical label.
Mr. Andreatta is currently studying under the guidance of Massimiliano Ferrati and is attending a post-graduate course at the Royal Danish Academy of Music in Copenhagen with Niklas Sivelov.