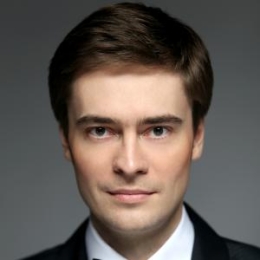 Russia
1983-01-23
VOICE 2018 Edition – Aria Division
Finalist
Bass
Biography 2018: Born in Moscow, Russia, Mikhail Golovushkin studied at the Vocal Department of Moscow Conservatory College of Music in the class of V.V. Goryachkin from 2003 to 2006. He then entered the Vocal Faculty of the Moscow State P.I. Tchaikovsky Conservatory, where he studied with A.A. Loshak and graduated with honours in 2011.
In the Opera Theatre of the Moscow Conservatory, he performed the roles of Gremin (Tchaikovsky's Eugene Onegin), King Rene (Tchaikovsky's Iolanta), Dr. Grenvil (Verdi, La Traviata), Colline (Puccini, La Bohème). He also sang in Mozart's Requiem and performed the role of Torello in a concert performance of Rachmaninov's opera Monna Vanna at the Bolshoi Hall of the Conservatory, conducted by Vladimir Ashkenazy.
He has participated in masterclasses given by Nikita Storozheva, Mati Palm, Elizabeth Bice, Richard Bado, Diane Zola, Vito Brunetti and Lyubov Kazarnovskaya. Since 2012, he has been the soloist of the Stanislavsky Opera in Moscow.
Mikhail Golovushkin is generously sponsored by Nadia Moretto & David B. Sela.
---
ARIA
FIRST ROUND
Giuseppe Verdi
A te l'estremo addio … Il lacerato spirito (Simon Boccanegra)
Georges Bizet
Quand la flamme de l'amour (La jolie fille de Perth)
Wolfgang Amadeus Mozart
Madamina, il catalogo è questo (Don Giovanni)
Official pianist: Esther Gonthier
SEMIFINAL
Piotr Ilitch Tchaïkovski
Lyubvi vse vozrasty pokorny (Evgeny Onegin)
Giuseppe Verdi
Che ma vegg'io! … Infelice! e tuo credevi (Ernani)
Charles Gounod
Vous qui faites l'endormie (Faust)
FINAL
Georges Bizet
Quand la flamme de l'amour (La jolie fille de Perth)
Giuseppe Verdi
Ella giammai m'amò! (Don Carlo)
Aleksandr Borodin
Nateshilsya li, Knyaz? … Tolko b mnye dozhdatsya chesti (Knyaz Igor)
Esther Gonthier, piano
Esther Gonthier is much in demand in the world of vocal music. She regularly works for the Opéra de Montréal, the Orchestre symphonique de Montréal, the Opéra de Québec and the Opéra-Théâtre de Metz, among others. She has assisted such renowned conductors as Jean-Claude Casadesus, Franz- Paul Decker, Rafaël Frühbeck de Burgos, Eliahu Inbal, Michel Plasson, Charles Dutoit, and Kent Nagano. She has over 80 operas in her repertoire and often works with young singers at the Conservatoire de musique de Montréal, the Schulich School of Music of McGill University, the Université de Montréal, and the Atelier lyrique de l'Opéra de Montréal.