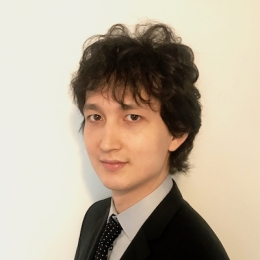 France
Born in 1993
Piano 2021 Edition
FINALIST
About
Biography
Born in Japan, Marcel Tadokoro started his piano studies at the age of eight. He has placed at several international competitions in Germany, France, and Russia, and has performed both in recitals and concerts in France, Russia, Japan, and Austria.
Training 
2017–: École Normale de Musique de Paris, Diplôme Supérieur de Concertiste, Rena Shereshevskaya 
2013-2017 : Conservatoire National Supérieur de Musique de Paris, Master  
Prizes and Awards 
2019: Concours international de piano de Lagny-sur-Marne– 1st Prize, Audience Prize 
2018 : Clavicologne International Piano Competition– 1st Prize
2018 : Concours international de piano Île-de-France– 2nd Prize
Semi-final
COUPERIN: La Visionnaire (25th Ordre, Book 4)
BEETHOVEN: Six variations in F major, Op. 34
Theme (Adagio cantabile) • [Without indication] • Allegro, ma non troppo • Allegretto • Tempo di Minuet • Marcia (Allegretto) • Allegretto • Coda (Allegretto – Adagio molto)
STRAVINSKY: Three movements from Petrushka
Russian Dance • Petrushka's Room • The Shrovetide Fair
SZYMANOWSKI: Variations in B-flat minor, Op. 3
Theme (Andantino tranquillo e semplice) • Listesso tempo • Agitato • Andantino quasi tempo di mazurka • Con moto • Lento dolce • Scherzando, molto vivace • Allegro agitato ed energico • Meno mosso – Mesto • Maggiore – Tempo di valse – Grazioso • Andantino dolce • Andantino dolce affetuoso • Allegro con fuoco
Final
BURGE: Three of the Twenty-Four Preludes
Allegro energico • Spring Thaw • Off-beat Waltz
RAMEAU: Two pieces from the Suite in E minor
La Villageoise (Rondeau) • Musette • Le rappel des oiseaux
CHOPIN: Ballade No. 1 in G minor, Op. 23
BACH: Prelude and Fugue in D minor, BWV 875
BRAHMS: Variations on a Theme by Paganini, Op. 35
Book I: Theme (Non troppo presto) • 14 Variations
Book II: Theme (Non troppo presto) • 14 Variations
Marcel Tadokoro is generously sponsored by Andrée & Pierre Lessard.