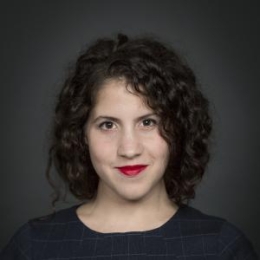 Photo : Stephan Walzl
Israel-Germany
1986-11-04
VOICE 2018 Edition – ART SONG DIVISION
Mezzo-soprano
Biography 2018: Mezzo-soprano Hagar Sharvit has been singing in operas, Lied recitals and concerts in Europe and abroad since 2011, including in the Lucerne Festival, the Bregenz Festival, Musikverein in Vienna, the Gasteig in Munich, Müpa Budapest, Victoria Hall in Geneva, Palau de les Arts Reina Sofia in Valencia, Konzerthaus Berlin, the Ravinia Festival, Theatre de la ville in Paris, Festival d'Aix-en-Provence, the Salzburg Festival, Brahmsfest, the Hugo Wolf Academy and more. She has won awards in international Lied competitions, the First Prize and Audience Prize in the Das Lied International Song Competition in 2015, the First Prize in the International Johannes Brahms Competition in 2012, and prizes in the Schubert, Schumann and the Hugo Wolf competitions.
Hagar has performed in main roles such as Emira (Siroe), Dejaneira (Hercules), Nerone (Agrippina), Cherubino (The Marriage of Figaro), Hermia (A Midsummer Night's Dream), Pinocchio (The Adventures of Pinocchio), Hänsel (Hänsel and Gretel), Valencienne (The Merry Widow), Zerlina (Don Giovanni), and Ottavia (L'incoronazione di Poppea).
In 2010, Hagar received her B. Mus. from the Buchmann- Mehta School of Music in Tel Aviv, where she studied with Tamar Rachum. She has been studying with Abbie Furmansky, Patricia McCaffrey and John Norris since 2011.
Hagar Sharvit is generously sponsored by Ann Birks.
---
ART SONG
FIRST ROUND
Gabriel Fauré
La fleur qui va sur l´eau op. 85 n° 2
Franz Schubert
Nachtstück D. 672
Benjamin Britten
O Waly, Waly
SEMIFINAL
Robert Schumann
Aus den hebräischen Gesänge (Myrthen op. 25)
Benjamin Britten
A Charm of Lullabies op. 41
    Sephestia's Lullaby
    A Charm
Gabriel Fauré
Poème d'un jour op. 21
    Rencontre
    Toujours
    Adieu
Johannes Brahms      
Unbewegte laue Luft op. 57 n° 8
Von ewiger Liebe op. 43 n° 1
FINAL
Francis Poulenc
Banalité FP 107     
      Chanson d'Orkensie
      Hôtel
      Fagnes de Wallonie
      Voyage à Paris
      Sanglots
Wolfgang Amadeus Mozart
Abendempfindung K. 523
Als Luise die Briefe K. 520
Hugo Wolf
An eine Äolsharfe (Mörike-Lieder)
Mignon: Kennst du das Land? (Goethe-Lieder)
Mordechai Zeira
Shalechet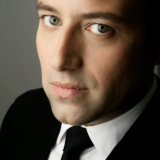 Photo : Pierre Etienne Bergeron
Canada
Carl Philippe Gionet
Whether as a soloist or accompanist, Acadian pianist Carl Philippe Gionet is a much sought-after collaborator. After earning his Doctorate in piano performance at the Université de Montréal, he furthered his studies in collaborative piano in Austria and England. Gionet now works with numerous singers and instrumentalists across Europe and North America. He also teaches at Biima, the Breno Italy International Music Academy.