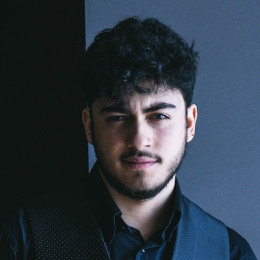 Italy
1996
Piano 2021 Edition
About
Biography
Giorgio Trione Bartoli joined the international music scene from a very young age, participating successfully in many national and international competitions including the Busoni International Piano Competition, Cleveland International Competition for Young Artists, the Aarhus International Piano Competition, and the Chopin International Piano Competition in Szafarnia. He has performed both in recitals and concerts in Poland, Hungary, Germany, Mexico, USA, Russia, Switzerland, Kazakhstan, and Spain. 
Training 
2018– : Accademia Nazionale di Santa Cecilia, Artist Diploma, Benedetto Lupo 
2007-2017: Conservatorio Niccolò Piccinni di Bari, Pianist Diploma, Pasquale Iannone 
Prizes and Awards 
2018: Premio Venezia – 2nd Prize
2016: Ettlingen Piano Competition – 5th Prize
2012: Enschede Piano Competition – 1st Prize
Personal reasons forced Giorgio Trione Bartoli to drop out of the CMIM competition after successfully qualifying. We hope he will return for the Piano 2024 edition.
Giorgio Trione Bartoli is generously sponsored by Rick J. Renaud.