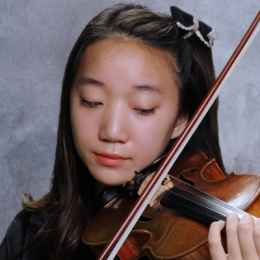 United States
09/04/2001
VIOLIN 2023
A seasoned performer at the age of twenty-one, Elli Choi is quickly establishing herself as one of the most talented violinists of her generation. 
She has performed extensively throughout North America, Europe, and the Middle East, at esteemed venues such as David Geffen Hall, the David H. Koch Theater, Carnegie Hall, Maison Symphonique de Montréal, Kimmel Center's Verizon Hall, the Berliner Philharmonie, Abu Dhabi Palace, and the Raum in Seoul, collaborating with orchestras such as The Juilliard Orchestra, Orchestre Philarmonique de Monte-Carlo, Salzburg Chamber Soloists, and the Sofia Philharmonic. 
 Winner of the Monaco World Music Masters Competition in 2016, Elli Choi is currently pursuing an undergraduate degree at Columbia University where she majors in Economics-Philosophy, simultaneously enrolled at the Juilliard School where she has been studying since 2009 at the Pre-College Division. 
Elli returns to the Concours after having been a finalist in 2019 and performing with the Orchestre Symphonique de Montréal. She plays a Matteo Goffriller made in 1698.
Principal teachers
Joseph Lin, 2017 – present

 

Ida Kavafian, 2013 – 2017

 

Hyo Kang, 2009 – 2013

 


 

 
Major Competitions
6th prize, Fritz Kreisler Competition, 2022
3rd prize, Classic Strings Competition in Dubai 2022
2nd prize, Zhuhai International Mozart Competition, 2019
1st prize, Monaco World Music Masters Competition in Monte Carlo, 2016
1st prize, Wieniawski- Kempinski Competition in Lublin, 2014

 
ProgramME
FIRST ROUND
JOHANN SEBASTIAN BACH Violin Partita No. 2 in D minor, BWV 1004
III. Sarabande
IV. Gigue
ERNEST CHAUSSON Poème, Op. 25
PYOTR ILYICH TCHAIKOVSKY Waltz-Scherzo, Op. 34

Pianist: Philip Chiu
Elli Choi is generously sponsored by Luigi Liberatore.