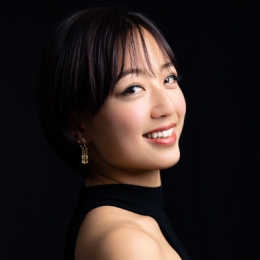 South Korea
03/04/2000
Participation in CMIM - Violin 2023
VIOLIN 2023
LAUREATE – Pierre Péladeau and Raymonde Chopin's Second Prize
André Bachand Award for the Best Performance of an Imposed Canadian Work
Best Interpretation of a Sonata in the Semifinal
Audience Choice Award
Described as "mesmerizing: full of passion, imagination, and daring" by the Times UK, South Korean violinist SongHa Choi has performed as a soloist with numerous orchestras, including the Lithuanian National Symphony, Westminster Philharmonic, Barnet Symphony, Yongin Philharmonic, and Sinfonia of Cambridge.
She is the winner of the Senior 2nd Prize and the Audience Award in the 2016 Yehudi Menuhin Violin Competition, as well as 2nd Prize, the Bach Prize, and the Sonata Prize at the Premio Lipizer International Violin Competition, the Grand First Prize of the 2018 Berlin International Competition and 1st prize at the 2015 Jeunesses Musicales International Violin Competition.
SongHa is currently studying at the Hochschule für Musik Hanns Eisler in Berlin, in the class of Professor Kolja Blacher, after graduating from the Yehudi Menuhin School in the UK. Her current instrument and bow are on generous loan from the private collection of Dr. Peter Hauber in Berlin.
Principal teachers
Kolja Blacher, 2019-Present

 

Lutsia Ibragimova, 2012-2019

 


 
Major Competitions 
2nd Prize, Windsor International String Competition, 2021

 

2nd Prize, Bach Prize, Sonata Prize – Premio Lipizer International Violin Competition, 2020

 

Grand First Prize, Berlin International Music Competition, 2018

 
Senior 2nd Prize, Audience Prize – Yehudi Menuhin International Violin Competition, 2016 
1st Prize – Jeunesses Musicales International Violin Competition, 2015 
ProgramME
FIRST ROUND
FRANCIS POULENC Violin Sonata, FP 119
I. Allegro con fuoco 
II. Intermezzo 
III. Presto tragico 
JOHANN SEBASTIAN BACH Violin Sonata No. 3 in C major, BWV 1005 
III. Largo
IV. Allegro assai
PYOTR ILYICH TCHAIKOVSKY Waltz-Scherzo in C major, Op. 34 
SEMIFINAL
BÉLA BARTÓK Violin Sonata No. 1
I. Allegro appassionato 
II. Adagio 
III. Allegro 
CLARA SCHUMANN Romance No. 1, Op.22 
I. Andante molto 
LUNA PEARL WOOLF L'Inconnu.e bouleversant.e
MAURICE RAVEL Violin Sonata No. 2 in G major
I. Allegretto 
II. Blues. Moderato 
III. Perpetuum mobile. Allegro 
FINAL
SERGEI PROKOFIEV Violin Concerto No. 2 in G minor
I. Allegro moderato 
II. Andante assai 
III. Allegro ben marcato 

Pianist: Carson Becke
SongHa Choi is generously sponsored by Andrée and Pierre Lessard.