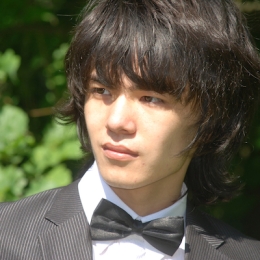 Russia
1994
Piano 2021 Edition
About
Biography
Dmitry Sin was born in Khabarovsk, and started music lessons at the age of 6. Dmitry performed at renowned festivals, among which La Roque d'Anthéron International Piano Festival and the Chopin Festival in Nohant. He appeared with a number of orchestras, such as Youth Symphony Orchestra of the Mariinsky Theatre, the Pasdeloup Orchestra and the Toulon Opera Symphonic Orchestra.
Биография
Дмитрий Син родился в Хабаровске, на востоке России. Он начал заниматься музыкой в возрасте шести лет. С тех пор он выступал на известных фестивалях, в том числе на Международном фортепианном фестивале в Ла-Рок-д'Антероне и фестивале Шопена в Ноане. Он выступал с различными коллективами, в том числе с Молодежным симфоническим оркестром Мариинского театра, Оркестром Пасделу и Симфоническим оркестром Тулонской оперы.
Training 
2018– : École Normale de Musique de Paris, classe de perfectionnement, Rena Shereshevskaya
2014-2018 : École Normale de Musique de Paris, Diplôme Supérieur de Concertiste,  Rena Shereshevskaya 
2007-2014 : Moscow Gnessin Special School of Music, High School Diploma, Elena Plyashkevich  
Prizes and Awards 
2018: Kyungsung International Academy Competition (South Korea) – 2nd Prize 
2017: Adilia Alieva International Music Competition – 1st Prize and Special Prize
2017 : Concours international de piano Ville de Gagny (France) – 2nd Prize
Semi-final
BACH: Toccata in E minor, BWV 914
SCHUMANN: Sonata No. 3 in F minor, Op. 14 (Concerto without orchestra)
Allegro brillante • Scherzo (Molto commodo) • Quasi variazioni (Andantino de Clara Wieck) • Prestissimo possible
Dmitry Sin is generously sponsored by Daniel Lalonde.