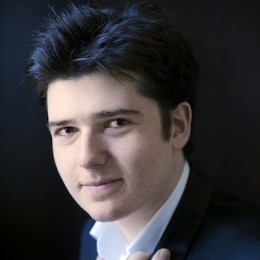 France
1998
Piano 2021 Edition
THIRD PRIZE
ICI Musique Audience Award: Dimitri Malignan
Festival Bach Montréal Award for the best performance of a work by J. S. Bach
About
Biography (2021)
Paris-born Dimitri Malignan has performed in prestigious venues such as Salle Cortot in Paris, Saint-Martin-in-the-Fields London, Konzerthaus Berlin, Romanian Atheneum Bucharest, Tchaikovsky Museum Russia, and was featured in many festivals such as the Nohant Festival Chopin, and Flâneries Musicales Reims, broadcast on MediciTV. He has performed recitals in many European capitals and has had the honour of performing a two-piano concert with Angela Hewitt in Italy in 2020.
Website
www.dimitrimalignan.com
Training 
2018–: Conservatorium van Amsterdam, MMus, Naum Grubert 
2011-2017 : École Normale de Musique de Paris, Diplôme Supérieur de Concertiste, Ludmila Berlinskaya 
2010-2016 : private classes, Jean-Paul Sévilla 
Prizes and Awards 
2019 : Concours International de Piano Antoine de Saint-Exupéry – 5th Prize 
2017 : École Normale de Musique de Paris– Unanimous 1st Prize, Cortot Prize 
2016: Mihail Jora Music Competition (Bucarest)– Unanimous 1st Prize 
Semi-final
BACH: Capriccio sopra la lontananza del fratello dilettissimo, BWV 992
Arioso (Adagio) • (Andante) • Adagisissimo • (Andante con moto) • Allegro poco • Fuga all'imitazione della cornetta di postiglione
BRAHMS: Variations on a theme by Robert Schumann, Op. 9
Theme (Ziemlich langsam) • 16 variations
RACHMANINOFF: Four of the Preludes, Op. 32
No. 8 in A minor (Vivo) • No. 10 in B minor (Lento) • No. 6 in F minor (Allegro appassionato) • No. 5 in G major (Moderato)
RACHMANINOFF: Prelude No. 7 in C minor, Op. 23
Final
BACH: Adagio in G major, BWV 968
BACH: Fantasia in C minor, BWV 906
BEETHOVEN: Sonata No. 30 in E major, Op. 109
Vivace, ma non troppo – Adagio espressivo – Tempo I • Prestissimo • Andante molto cantabile ed espressivo
MEDTNER: Improvisation, Op. 31 No. 1 (Three Pieces)
MEDTNER: La Campanella, Op. 20 No. 2 (Two Tales)
DEBUSSY: Three of the Préludes, Book II, L. 131
Bruyères (Calme) • Général Lavine – eccentric (Dans le style et le mouvement d'un cakewalk) • Fireworks
BURGE: Three of the Twenty-Four Preludes
Allegro energico • Spring Thaw • Off-beat Waltz
Dimitri Malignan is generously sponsored by the Vignoble Clos Ste-Croix.