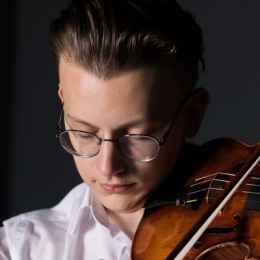 Ukraine
11/28/2004
Participation in CMIM - Violin 2023
VIOLIN 2023 
Semifinalist
Born in Lviv, Bohdan Luts studied at the Kyiv State Music Lyceum and the Lviv State Music Lyceum. He is currently a student at the International Menuhin Music Academy in Switzerland, studying with Renaud Capuçon and Oleg Kaskiv, and regularly participates in master classes of renowned musicians such as Gabor Takacz-Nagy, Liviu Prunaru, Nikolaj Szeps-Znaider, Pablo de Naverán, Ivan Vukčević, Jean-Jacques Kantorow, and others.
Bohdan was awarded the Grand Prix and First Prize at the International Competition "Lviv Virtuoso" and the International Competition of Bohdan Varhal's "Talents for Europe" in Slovakia. In 2022, at the age of 17, he won First Prize at the prestigious Carl Nielsen International Competition in Denmark and First Prize at the 2nd Alberto Lysy International Violin Competition in Gstaad.
He has played concerts in Switzerland, Slovakia, Poland, Italy, and Ukraine. As a soloist, Bohdan has performed with the Copenhagen Philharmonic, the Lviv National Philharmonic Symphony Orchestra, and the Kyiv Chamber National Soloists' Ensemble, among others.
Principal teachers  
Renaud Capuçon, 2019-present

Oleg Kaskiv, 2019-present

 

Oksana Tsap, 2019-2022

 

Olga Korinets, 2017- 2019

 

Mariya Futorska, 2014- 2017

 

Yaroslava Kataryna, 2012-2014

 


 
Concours majeurs  
1st prize, Nielsen International Violin Competition 2022,
1st prize, Alberto Lysy International Violin Competition 2022
3rd prize, Rodolfo Lipizer International Violin Competition 2021
2nd prix, Piccolo Violino Magico International Violin Competition 2018
3rd prize, Arthur Grumiaux International Violin 2017
Programme
FIRST ROUND
JOHANN SEBASTIAN BACH Violin Sonata No. 1 in G minor, BWV 1001
I. Adagio
II. Fugue
EUGÈNE YSAYË Violin Sonata No. 6, Op. 27
I. Allegro giusto non troppo vivo
HENRYK WIENIAWSKI Variations on an Original Theme, Op. 15 
SEMIFINAL
MAURICE RAVEL Violin Sonata in G major No.2
I. Allegretto
II. Blues. Moderato
III. Perpetuum mobile. Allegro
LUNA PEARL WOOLF L'Inconnu.e bouleversant.e
RICHARD STRAUSS Violin Sonata in E-flat major, Op. 18 
I. Allegro, ma non troppo 
II. Improvisation: Andante cantabile 
III. Finale: Andante – Allegro  
CAMILLE SAINT-SAËNS (arr. Ysayë) Caprice in Waltz Form

Pianist: Carson Becke
Bohdan Luts is generously sponsored by Luc Maurice.