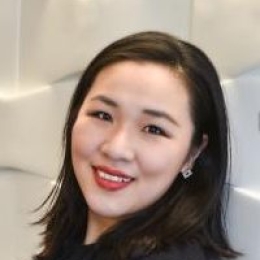 China
1989-12-23
Voice 2018 Edition – ART SONG DIVISION
Soprano
Biography 2018: Soprano Mengxi You is currently a doctoral candidate (DMA in Performance) at Boston University, studying with Matthew DiBattista. She received her prior degrees from the Shanghai Conservatory in China and Western University in Canada. Her public performances include the soprano solo of Handel's Messiah in China (2015), Purcell's King Arthur in Boston (2016), a female chorus role in The Rape of Lucretia in London, Canada (2013), and a number of opera scenes.
Mengxi won First prize at the Lyra New York International Competition Art Song Division in 2017. She won first place in 2014 London Music Scholarship Fund Competition in Canada. Representing China, she was selected to perform in the 21st Jeunes Ambassadeurs Lyriques Gala in Montréal in 2014.
Mengxi You is generously sponsored by Marie-Josée & Maurice Pinsonnault.
---
ART SONG
FIRST ROUND
Franz Schubert
Die junge Nonne D. 828
Claude Debussy
Clair de lune L. 32
Maurice Ravel
Quel galant m'est comparable (Cinq Mélodies populaires grecques)
Benjamin Britten
Wild with Passion (Song on the Water)
Richard Strauss
Schlechtes Wetter (Fünf kleine Lieder op. 69)
Joseph Canteloube
Lou Coucut (Chants d'Auvergne)
SEMIFINAL
Franz Schubert          
Gretchen am Spinnrade D. 118
Francis Poulenc
Fiançailles pour rire FP 101
La Dame d'André
Dans l'herbe
Il vole
Mon cadavre est doux comme un gant
Violon
Fleurs
Samuel Barber          
Nocturne op. 13 n° 4
Franz Liszt
O lieb so lang du lieben kannst S. 298
FINAL
Léo Delibes
Les filles de Cadix
Claude Debussy
Ariettes oubliées L. 60
C'est l'extase langoureuse 
Aquarelles 1 : Green
Felix Mendelssohn
Neue Liebe op. 19a n° 4
Jean Sibelius
Var det en dröm? Op. 37 n° 4
Gustav Mahler
Liebst du um Schönheit (Rückert-Lieder)
Franz Liszt
Oh! quand je dors S. 282
Henri Duparc
Chanson triste (Treize mélodies)
Roger Quilter
Seven Elizabethan Lyrics op. 12
      Weep You No More
      My Life's Delight
Richard Strauss
Vier letzte Lieder      
     Frühling
     Beim Schlafengehen
Photo : Raja Ouali
Canada
1987-10-24
Jennifer Szeto
A graduate of San Francisco Opera's Adler Fellowship, pianist Jennifer Szeto was an Apprentice Coach with the 2016 Merola Opera Program and the Canadian Opera Company Ensemble Studio from 2014 to 2016, where she assisted in seven productions and more than 15 recitals in the Richard Bradshaw Amphitheatre. From 2012 to 2014, she was Apprentice Pianist with Opéra de Montréal Atelier Lyrique. In 2018, she joins the staff at the Banff Centre for the Arts and Creativity for "Opera in the 21st Century". She holds a M.Mus. Piano Accompaniment from McGill University and has received training from SongFest and the Franz Schubert Institut in Austria.