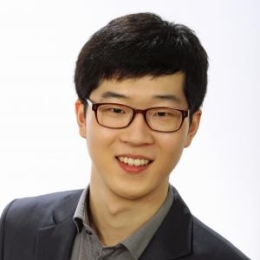 South Korea
1989-08-28
VOICE 2018 Edition – ARIA DIVISION
Bass
Biography 2018: Jongsoo Yang is currently studying for his Konzertexamen at the Hochschule für Musik In Freiburg under Prof. Reginaldo Pinheiro. He received his Bachelor and Master in Music under the tutelage of Peter Maus at the Universität der Künste in Berlin. Since 2017, Jongsoo is a member of the Theater Freiburg Opernstudio ensemble singing bass roles on the stage. He sang as a soloist in several important oratorios like Bach's Matthäuspassion and Weihnachtsoratorium, Mozart's c-minor Mass and Requiem and Haydn's Die Schöpfung.
He got a scholarship from Paul Hindemith Gesellschaft and Oscar und Vera Ritter-Stiftung.
Jongsoo Yang is generously sponsored by ABZAC Canada inc.
---
ARIA
FIRST ROUND
Wolfgang Amadeus Mozart
La vendetta, oh, la vendetta (Le nozze di Figaro)
Joseph Haydn
Nun scheint in vollem Glanze der Himmel (Die Schöpfung)
Ludwig van Beethoven
Hat man nicht auch Gold beineben (Fidelio)
Official pianist: Esther Gonthier
SEMIFINAL
Wolfgang Amadeus Mozart
Non più andrai (Le nozze di Figaro)
Gioachino Rossini
La calunnia è un venticello (Il barbiere di Siviglia)
George Frideric Handel
The people that walked in darkness (Messiah)
FINAL
Wolfgang Amadeus Mozart
Madamina, il catalogo è questo (Don Giovanni)
Joseph Haydn
Nun scheint in vollem Glanze der Himmel (Die Schöpfung)
Giacomo Meyerbeer
Volontiers, un vieil air huguenot… Pour les couvents, c'est fini (Les Huguenots)