Photo : 80's floor
South Korea
1987-09-12
VOICE 2018 Edition – ART SONG DIVISION
Soprano
Biography 2018: Soprano Irina Jae-Eun Park graduated in 2010 with a Bachelor's degree in Voice under Myoungja Yoon at the EWHA Womans University in Seoul. She then continued her singing education with Peter Maus at Universität der Künste Berlin and graduated in 2014 with a Master's in Music in Lied/Oratorio/Concert. In 2016, after completing a Master's degree in Opera, also with Peter Maus, she began her postgraduate studies with Angela Nick at Hochschule für Musik Freiburg.
In 2017, she received the Bärenreiter Urtext Prize at the 64th ARD International Music Competition in Munich. In 2016, she won Third Prize in the 8th International Lions Singing Competition of the Immling Festival.
She appeared as Safiye/Rabia of Basra in Vollmer's Crusades and as Noemie in the opera Cendrillon by Massenet at Theater Freiburg in the 2016/17 season. And she has made her role debut as Antonia in The Tales of Hoffmann by Offenbach at Theater Freiburg this 2017/18 season. 
Irina Jae-Eun Park is generously sponsored by Catherine & Thierry.
---
ART SONG
FIRST ROUND
Aribert Reimann
The Couriers (Six Poems by Sylvia Plath)
Franz Liszt
Oh! quand je dors S. 282
Franz Schubert
Gretchen am Spinnrade D. 118
SEMIFINAL
Felix Mendelssohn
Der Mond op. 86 n° 5
Robert Schumann
Mein Schöner Stern (Minnespiel op. 101)
Alfred Bachelet
Chère nuit
Fernando Obradors
Canciones Clásicas Españolas
Con amores, la mi madre
Del cabello más sutil
Chiquitita la novia
Viktor Ullmann
Fünf Liebeslieder von Ricarda Huch op. 26
Wenn je ein Schönes mir zu bilden glückte
O schöne Hand
FINAL
Ernest Chausson
Le temps des lilas op. 19 n° 3
Edvard Grieg
Zur Rosenzeit op. 48 n° 5
Carlos Guastavino
La rosa y el sauce  
Francis Poulenc
Fiançailles pour rire FP 101
     La Dame d'André
     Dans l'herbe
     Il vole
     Mon cadavre est doux comme un gant
     Violon
     Fleurs
Alexander Zemlinsky
Walzer-Gesänge op. 6
     Liebe Schwalbe
     Klagen ist der Mond gekommen
     Fensterlein, nachts bist du zu
     Ich geh' des Nachts
     Blaues Sternlein
     Briefchen schrieb ich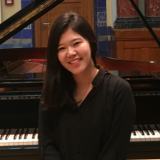 South Korea
1988-07-16
Dokyung Han
South Korean pianist Dokyung Han was born in Cheong-ju and studied in Seoul at Hanyang University before moving to Germany. She now lives in Karlsruhe, where she graduated with a Master's degree in piano performance from the Hochschule für Musik Karlsruhe (under Roberto Domingos) and is currently pursuing a soloist diploma. In the meantime, she also earned a second Master's degree in interpretation from Hochschule für Musik Freiburg (under Matthias Alteheld). Han has won several prizes, including a first prize winner at the Concorso Internazionale per Giovani Musicisti "Città di Barletta" in Italy.
Dokyung Han is generously sponsored by Stephen & Jane Smith.