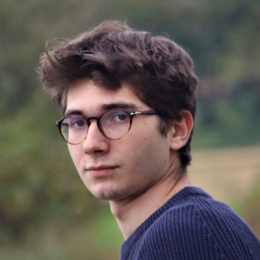 Italy
1998
Piano 2021 Edition
FINALIST
About
Biography
Since the age of 8, Francesco Granata has played solo recitals and chamber music concerts all over Italy, in Europe, and in India. He made his debut as a concert soloist at the age of 13, and, in 2019, he performed with La Fenice Orchestra. He recorded a DVD for Limenmusic (2015) and a CD for Suonare Records (2018). He has been a featured guest on both Italian radio and television shows.
Dall'età di otto anni, Francesco Granata ha suonato recital solistici e concerti di musica da camera per tutta Italia, Europa ed India. All'età di 13 anni ha debuttato come concertista solista. Nel 2019, si è esibito con l'Orchestra La Fenice. Ha registrato un DVD per Limenmusic (2015) e un CD per Suonare Records (2018). È stato ospite di programmi radiofonici e televisivi italiani.
Training 
2019–: Accademia di Musica Pinerolo, Roberto Plano, Benedetto Lupo. 
2016-2019: Accademia Nazionale di Santa Cecilia, MMus, Benedetto Lupo 
2006-2016: Milan Giuseppe Verdi Conservatory, conservatory diploma, Alfonso Chielli 
Prizes and Awards 
2017: Premio Venezia– 1st Prize 
2017 : Preisträgerauswahl Sommerakademie Universität Mozarteum– Laureat 
2014: Bramanti Piano Competition– 1st Prize
Semi-final
BACH: Prelude and Fugue in F minor, BWV 857
RAVEL: Miroirs, M. 43
Noctuelles • Oiseaux tristes • Une barque sur l'océan • Alborada del gracioso (Aubade du bouffon) • La vallée des cloches
STRAVINSKY / AGOSTI: Three movements from The Firebird
Infernal Dance of King Kashchei • Lullaby • Finale
Final
BEETHOVEN / LISZT: Adelaide, Op. 46, S. 466
BURGE: Three of the Twenty-Four Preludes
Allegro energico • Spring Thaw • Off-beat Waltz
CHOPIN: 24 Preludes, Op. 28
Agitato • Lento • Vivace • Largo • Molto allegro • Lento assai • Andantino • Molto agitato • Largo • Molto allegro • Vivace • Presto • Lento • Allegro • Sostenuto • Presto con fuoco • Allegretto • Molto allegro • Vivace • Largo • Cantabile • Molto agitato • Moderato • Allegro appassionato
Francesco Granata is generously sponsored by the Fondation Ronald Denis M.D.