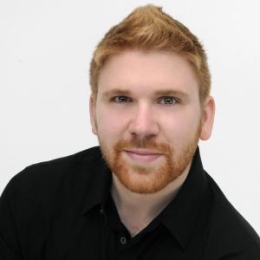 United States
1987-09-24
VOICE 2018 Edition – ART SONG DIVISION
TEnor
Biography 2018: A native of North Carolina, tenor David Tayloe has made appearances with the Santa Fe Opera, Opera Louisiana, Opera Birmingham, Piedmont Opera Company, the A.J. Fletcher Institute, LSU Opera, and Frost Opera Theater. As a concert singer, he has performed as Obadiah in Elijah, the Evangelist in Bach's St. Matthew Passion as well as the tenor soloist in the Magnificat, Finzi's Dies Natalis, Handel's Messiah, Haydn's Die Schöpfung, Lord Nelson Mass, Paukenmesse and Theresian Messe, Schubert's Mass in A flat major, and Britten's Serenade.
 David has presented recitals across the United States and Europe, including a tour of Schubert's Winterreise. David was a featured recitalist at the Opera America Center in New York City, with a performance of Winterreise. David has collaborated with composers on their original work including Libby Larsen, Ben Moore, Jake Runestad and Thomas Sleeper, including the West Coast premiere of Ben Moore's Dear Theo, the world premiere of A Page Out of Zen by Ryan Jesperson, and the world premiere of Thomas Sleeper's Beatrice Bends for her Blue Ball.
David Tayloe is generously sponsored by Fondation Lise & Richard Fortin.
---
ART SONG
FIRST ROUND
Franz Schubert
Im Früling D. 882
Gerald Finzi
The Sigh (A Young Man's Exhortation op. 14)
Hugo Wolf
Der Tambour (Mörike-Lieder)
Francis Poulenc
Bleuet FP 102
SEMIFINAL
Charles Koechlin
L'hiver (Rondels op. 8)
Franz Schubert
Auf dem Flusse (Winterreise D. 911)
Benjamin Britten
Winter Words op. 52
At day-close in November
Proud Songsters
Jonathan Dove
From that moment (Out of Winter)
Robert Schumann      
Weuhmut (Liederkreis op. 39)
Jonathan Dove
Eternity is long enough (Out of Winter)
John Ireland
Spring Sorrow
Robert Schumann
Er ist's (Liederalbum für die Jugend op. 79)
Gabriel Fauré
L'hiver a cessé (La Bonne Chanson op. 61)
FINAL
William Denis Browne
To Gratiana Dancing and Singing
Ralph Vaughan Williams
Linden Lea
Ivor Gurney
I will go with my Father a-ploughing
Charles Ives
The World's Highway
Reynaldo Hahn
Venezia
Sopra l'acqua indormenzada 
La Barcheta 
Ned Rorem
I Strolled Across an Open Field
Franz Schubert
Im Haine D. 738
Dass sie hier gewesen D. 775
Auflösung D. 807
Gerald Finzi
The Dance Continued (A Young Man's Exhortation op. 14)
Ned Rorem
Full of Life Now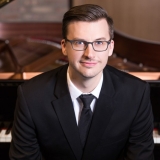 Photo : Elliot Mandel
United States
1985-09-29
Mark Bilyeu
Described as a "superb partner" (schubert.org), pianist Mark Bilyeu passionately engages in music as a committed performer, inspiring teacher and enterprising curator. A finalist in the 2015 Das Lied Song Competition, he has studied at the Aspen Summer Music Festival, Britten-Pears Programme, and l'Academie Francis Poulenc, as well as with Malcolm Martineau, Roger Vignoles and Susan Manoff. He was named a Visiting Artist in Vocal Coaching and Collaborative Piano at the University of Northern Iowa. As a curator, his pride and joy is the Source Song Festival: a weeklong celebration of words and music in Minneapolis. He has recorded for the Bridge, Navonna, and Leaf record labels.
Mark Bilyeu is generously sponsored by Pierre-Paul Jodoin.