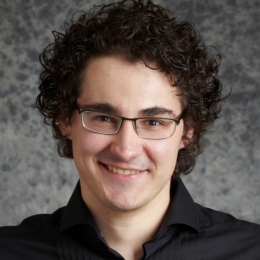 Ukraine
1988-10-24
Piano 2017 Edition
* * *
fb: @ArtemYasynskyy
t: @artem_yasynskyy
w: artemyasynskyy.com
BIRTHPLACE
Donetsk, Ukraine
TRAINING
2010-2016: Hochschule für Kunst Bremen, M. Mus.
2005-2010: Prokofiev Academy's Special School for Talented Children, B. Mus.
TEACHERS
Patrick O'Byrne, Albina Oryschuk
AWARDS
2015: 1st Prize and Audience Prize, Cincinnati World Piano Competition
2014: 3rd Prize, Gina Bachauer International Piano Artists Competition (Salt Lake City)
2013: 3rd Prize and Audience Prize, Sendai International Music Competition
2012: 3rd Prize, Gian Battista Viotti International Piano Competition (Vercelli)
---
ROUND ONE: RECITAL
Joseph Haydn: Sonata in C major, Hob. XVI:50
Maurice Ravel: Prelude in A minor; À la manière de Chabrier; À la manière de Borodine
Johannes Brahms: Paganini Variations, op. 35
SEMIFINAL: RECITAL
Domenico Scarlatti: Sonata in B-flat major, K. 503; Sonata in G minor, K. 426; Sonata in G major, K. 431; Sonata in D major, K. 484
André Mathieu: Laurentienne no. 2 in C-sharp minor
Benjamin Britten: Holiday Diary, op. 5
Modest Mussorgsky: Pictures at an Exhibition
FINAL: CONCERTO
Peter Ilyich Tchaikovsky: Concerto no. 1 in B-flat minor, op. 23 
---
THANK YOU!
Artem Yasynskyy is generously sponsored by Nathalie Pratte.