Board of Directors
Board of Directors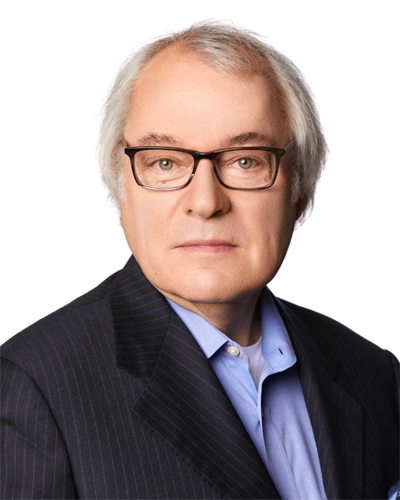 Piano 2021 : message from the Chariman
of the Concours musical international de Montréal
and the Fondation du Concours musical international de Montréal
It takes a certain temerity to hold an international competition entirely online! Some have told us it would be impossible. That was a gross misjudgement! There is no way we would abandon the young musicians who count on us, nor could we let silence take the place of this international gathering.
This year, more than ever, the CMIM had to make itself heard, take down borders, play a part in Montreal's cultural vitality, bring music-lovers together, and let the music resonate!
I applaud the work of the CMIM team, which never showed any hesitation to dive right into this big, beautiful, digital adventure.
The challenges and deployment of the 2021 edition are considerable, and the event could not shine without the support of our governments, our invaluable donors, our sponsors, and our financial, media, and artistic partners, as well as the essential presence of my fellow administrators, many friends, the jury members, patrons, and volunteers.
Thank you for your generosity and for helping to shine a spotlight on tomorrow's talent.
FRANÇOIS R. ROY
*  *  *
Officers
CHAIRMAN
François R. Roy
Corporate Director
VICE-CHAIR
Jean-Jacques Laurans
President, Alfid Services Immobiliers Ltée
SECRETARY/TREASURER
Me Jacques Vincent
Partner
Gutkin Vincent Dumas S.E.N.C.R.L.
Directors
Renée Amilcar
Executive Director Bus
Société de transport de Montréal
Maryse Beauregard
Multimedia producer
Benoît Bessette
Corporate Director
Christiane LeBlanc
Executive and Artistic Director
Concours musical international de Montréal
Luc Plamondon
Lyricist

Kelly Rice
Broadcaster, producer, lecturer and consultant
Jacques Robert
President
Jacques Robert Multimédia
Louise Roy
Chancellor emeritus, Université de Montréal
Chairman, Cirano
Geneviève Torriani
Administrator
J. Daniel Tremblay
Président, Groupe Marketex ltée
Honorary President
André Bourbeau (1936-2018)